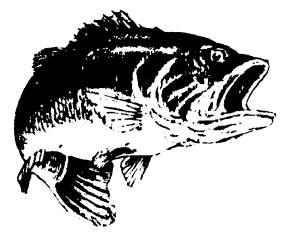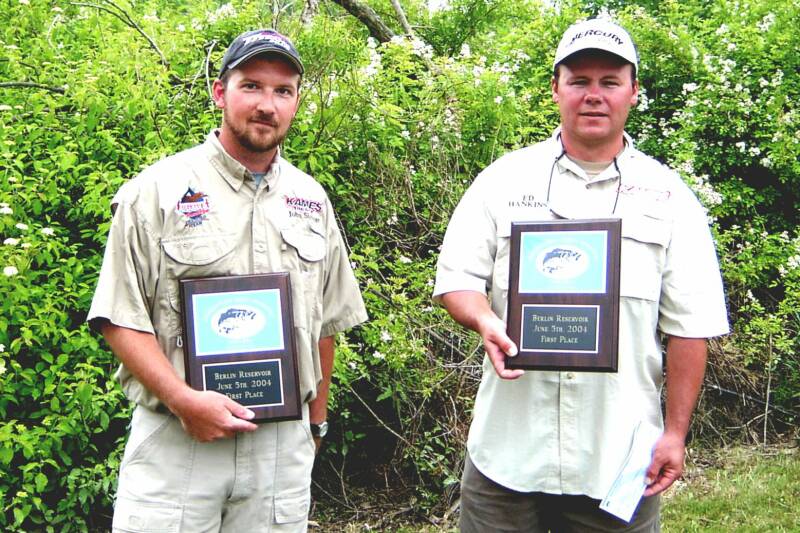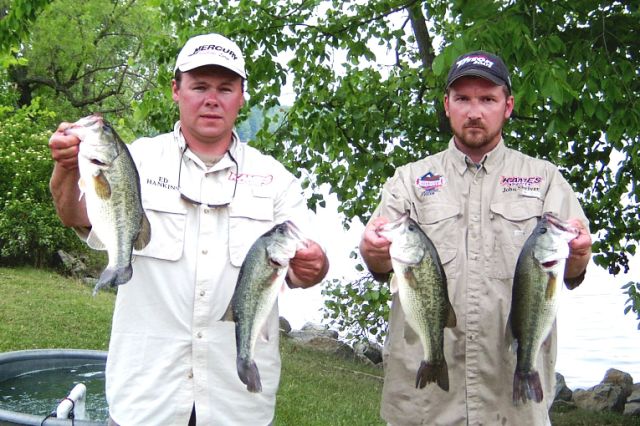 THIS MONTHS FEATURED ANGLERS SPONSORED IN PART BY:

Pimpn' aint easy. This was evidently clear as the editor sat down to begin discussions with this month's featured anglers. As a matter of fact, this modest and mild mannered team from the Akron/Canton region was pretty uneasy with the whole idea. John looked down at the floor of Kame's Sports Center with a strong raise in his eyebrows, while his partner Ed responded during a later phone interview, "ah geeze, I don't know about this."

After convincing the two of just some of their angling accomplishments ~ Salmoides Eastern Division Point Champs 01' & 02', Lakes Trail Point Champs 01' & 03' and Norton Bass Circuit Point Champs this past 2004 season ~ it became clear, these "basspimps" couldn't just leave dobass on the street corner.

Back in 1997, two competing anglers from "Wednesday nighters" held on Portage Lakes decided to pair their strengths. John Shriver's confident skinny water flippn' bite, mixed through the rod tips of Ed Hankins and his zones of versatility. Moderate success had been the norm for both anglers prior to their engagement. Little did they realize at the time, what accomplishments fate had in store.

Both anglers entered the sport around the age of nine, amongst waters spoke of with great reluctance.

Mogadore, Springfield, Nimissilla, and Portage Lakes were whispered under their breaths. These days they're spending as much as 200 days annually on the water between them. This 'water time' has developed confidence, and confidence has agreeably produced their success. Here's what they had to say.

John credits his teams' abilities to simply, "goin' out and fishn' what you believe in." How he gets to "believing", is where his character shines through.

Being the quieter of the two, Shriver's solid mindset often plays the calming role in the team.  He hinted in conversation how tournament angling can be a grueling ordeal if you let any of the variables effect you. Whether it be from the mass selection of techniques and baits available, to the solid four pounder that broke your line, heart and mind in the morning. "Keep it simple" he asserted. What else could one expect from a noted shallow water angler?

As his "simple" approaches evolved in discussion, it appeared to be anything but simple. He spoke openly about recent success on Long Lake. The topics of jerkbaits, crankn' and spinnerbaits lingered onward, much different than the 1/4 oz. black or brown Ohio Pro jig he was assured of earlier.  Shriver's insights became clearer as he summed up the initial conversation, "... you have to listen to what the bass are telling you."

From keeping it simple to the subtleties of the game, this is what John was referring to.

"The easiest and most popular way to fish is to go right down the bank on outside edges. What if you are the sixth boat to run that bank?" He further emphasized the importance of tuning into the fish.  "Shallow water is seldom neat and tidy with defined targets, instead it's a literal jungle of brush, wood, bushes or anything that grows itself on the bank. This is why you have to start picking things apart, finding a pattern."

Tuning into that sixth sense, he reflected on moments of fishing directly behind other anglers and boating fish that were there - but left behind. "Examine the subtleties... bigger bushes compared to smaller ones, clumped or isolated... are they bare or do they have leaves? How are the bass relating to the bush? Are the laydowns parallel or vertical in relation to the bank? Are they in six inches, or the three foot break that the last boat just drove over?" The fundamental meaning of "simple" from John's perspective took on a new light. He may not say much in the boat as he quietly drops his enticements from spot to spot, but his mind is clearly racing inside the water.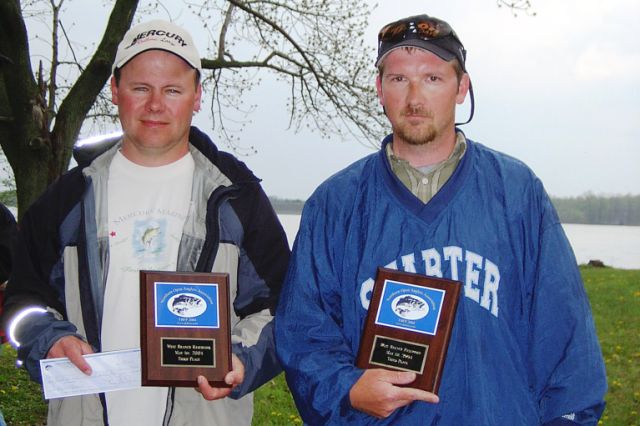 This mental confidence level of an "up close and personal" styled angler is an obvious necessity. Although, flipn' and pitchn' every target without success for the first two hours can also drain the life out of the team "in back".

So how does the other half deal with a thorough cleaning of the area in front of him? John explained, "If I'm in a bad spot for Ed, he will manage to work himself into position. One of us will usually pick up the other during a rough day."

Ed Hankins clarified this during his interview."We switch up quite a bit, spending about 50/50 running the boat or even rotating every other fish." He elaborated, "John is the most solid person I have ever fished with - I don't want to flip behind him all day!"

Hankins presented as a decision maker, often soliciting, at times demanding, the input from his seldom spoken partner. He reflected on this past season and their championship win from the NBC trail, of which the duo won their first boat prize. "I jump all over the place. I'm always talking and beating myself up. I kept telling John,  'you gotta give me some input... why don't you ever tell me what you want to do!' " as he sought some sanctity from his cool headed partner.

Despite the water worries that accompanies Ed's discerning half of the team, the confidence factor in each other is another obvious key in their success. "John is more into the old stuff and won't hesitate to fish (those areas) directly behind another boat. I won't beat what I had last year. Pre-fishing of an event will tell me the (active) primary areas to try first for that particular day. The history of 'spots' are usually saved for scrambling later on." The full support of each others decisions throughout the day was apparent in these opposing approaches.

Unlike his partner, Ed doesn't 'lure' himself to a particular bait or style of fishing. "We may have a great bite going before an event, but come tournament day I'll do something completely different and throw another bait just in spite."

If he had his choices though, deep water cranking would fall high onto Hankins list. "Deep fish are usually the winning fish..." he added. "With the quality of deeper fish, they are not going to get beat if they are on." He also noted that a majority of the field often miss deep fish, opposed to more obvious shallow water locations. Leaving them unmolested during an event.

The philosophy of good decision making, a result of time spent on the water, was Hankin's most prominent advice for other anglers.  "Get on it and keep fishing, spend time on the water with a variety of basic approaches. Making good decisions is much more important than what you have tied on."

The character traits of this team was never more apparent than upon the final closing comments from Ed.

He had just expressed his excitement of both he and John qualifying for the Triton Owner's Championship to be held in June 2005 on Pickwick Lake. Clarifying some confusion on the editors' part, they will not be fishing as a team, but rather, as individuals.

Mind you, Shriver failed to even make mention of this awesome accomplishment that could result in a $40,000 top prize. John had made it clear earlier, the reason he fishes is for plaques. Ed on the other hand ~ he plans to "whoop his pants!" Most likely though, to simply be able to hang yet another piece of wood on his wall.

These guys are a class act all the way. How about a one and two spot in June for all of us coat tail chasers in Northeast Ohio!