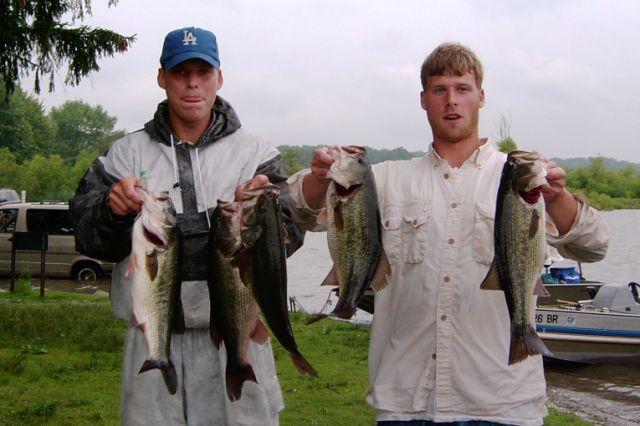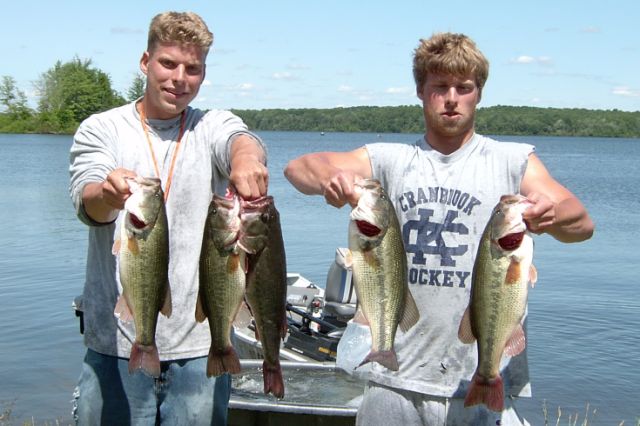 THIS MONTHS FEATURED ANGLERS SPONSORED IN PART BY:

For those readers that have failed to glorify their spirit with the holiness found on LaDue Reservoir, you very well have never heard of these two anglers. But for the 49 other teams on "Mother's" waters who are enlightened through her weekend services, the name Kitson invokes a rash of feelings and emotions.

The FBFP LaDue Spring Bass Series will be entering its fifth year in 2005. The Kitson brothers epitomize what the series has preached since its inception. Simply said, keep your plug wet and your enemies removed. 

From the onset of the first event in 2001 these new pimps on the block have grown from little boys to big bass men, fishing with each other or their father in each and every single event. A check here and there and some of those days "that should've been", were part of the norm during their earlier experiences.

But what these guys did this past 2004 season is parallel to what is often referred to in professional athletics as "finding the zone". In pimp terms… "gettn' your swerve on."

The Kitson brothers won the two final 04' qualifiers with respective 13 and 17lb. bags, then followed up at the championship with a capitalizing win and new series record setting 5 fish limit weight of 20.68 pounds. Not to be underestimated as a fluke, they also cashed checks the next two consecutive open events with a fourth and third place finish!

The consistency of these accomplishments is not so much in their performance ~ but how they got there. Very few "weekend warriors" have the time invested as this young duo has amassed. The day school let out this past season they didn't miss a beat spending 7 days a week on the water from sunup to sundown! Between the two they most likely  

have more hours invested in fishing NE Ohio waters than many professional anglers do during their season. By the time this interview took place and subsequent contacts thereafter, Thanksgiving had rolled by. One of the recent emails from them spoke of their success flippn' Mother's waters on Turkeyday!  The drive to pursue their passion, the desire to further educate themselves, and the amassed time spent on the water is what these guys are all about.

Ryan and Craig Kitson started their angling quests along the Metropark regions in Cleveland. They both experienced their first bass during preteen years. Their successes led to self-professed benchmarks established as they aged. "At first we were going for 'Fish Ohio' fish … then we started meat hunting for walleyes and crappies!" Ryan explained with great enthusiasm. "The following year we met Ray Halter from the Rodshop in Strongsville and he offered to take me and Dad out to LaDue, he showed us some awesome buzzbait and spinnerbait fishing that day and it just kind of took off from there, I was hooked!"  Obviously so, as Ryan persuaded his father to fish an event just one week later at LaDue, put on by Bedford Gun and Tackle. The result was a third place finish in his very first tournament.

By their early teen years Santa Clause (also known as their biggest supporter, Dad) treated them with their first boat. The two brothers were ecstatic, despite some urging needed for the younger Craig to get motivated into the boat. Ryan explained, "When I had first started fishn' a lot, I had to cook breakfast for him just to get him out of the bed!" he elaborated, "By about the third summer at LaDue we ran into some fantastic topwater fishing one day, from that point forward...Craig started pulling all nighters and would actually wake ME up to go fishing!"

Their exuberant youthful demeanor is often carried over into their fishing. They somewhat credited their "run and gun" tactics to their success for this previous season. Ryan commented, "We often would sit on top of spots in the years past, this year we kept the trolling motor of 50 or 60 and just kept casting for active fish throughout the entire lake." Craig backed up his older brother, "After we'd get 1-3 fish from a spot or hump, it was time to go. We'd just try to hit every hump we could during the eight hour day."

Interestingly, the duo also agreed their individual personalities play into their angling. Ryan, a recent economics graduate, credits his mathematical thought process in his visualizations of deepwater structure. He also allows his numerical perceptions to accurately position the team with offshore land markings. Craig on the other hand is a musician, a drummer to be exact. His rhythmic approach creating a tune to his retrieve that must be replicated upon finding the right song!

Craig also commented about other anglers' presence, "Once we stop worrying about other things and get into the rhythm, it all seems to come together." Ryan further explained, "you can't think about others, it can be just another distraction…I have confidence in the fact we are doing something different than they are. We are always just fishing against the fish…"

Keep it wet boys and watch those enemies. Forget about the "wins" ~ just staying in tune with "Mother" is most gratifying of all. We are all looking forward to whoopn' your tails in 2005!

Craig believes that the decisions they made during the 04' tournaments were the most important factor, and knowing what spots to run to quickly. He explained their hookless pre-fishing tactics. " We are looking for new 'fish' in the tournaments. Pre-fishing is all about looking for new 'spots.'"

Both agreed they always have a game plan come tournament day, which further establishes much needed confidence levels. Each brother has a crankbait, carolina-rig, topwater and jig tied onto four rods each. They develop a plan and stick to it, knowing they can always return to an area later if needed. Often, resulting in fishing similar areas several times throughout the day during various intervals of time.