THIS MONTHS FEATURED ANGLERS SPONSORED IN PART BY:

Over the past fourteen years, the name Prvonozac has ushered many a thought amongst bass anglers in the Northeast Ohio region. Love 'em or hate 'em, they continue to make the mark on the board that most compare their days catch with. For good reason too. Every good pimp must have a new ride, and this brother duo has brought home a total of twelve ~ yes, TWELVE ~ prize boats to the garage since 1997 ! Whether for the consistency of Anglers of the Year or tackling the pressures of Championship events, these boys are putting it all aside and thinking like a fish.

Dobass took a moment with them during the annual 2004 Vic's Sportcenter X-series banquet. Of an interesting note to awash some of the first thoughts the reader may have, an announcement was made before they received yet another set of plaques for this years' point champs. Nick was given a polygraph by officials. The result,"There's not a lying bone in his body". All pimps have"enemies", hopefully that one can be put to rest. 

As the two were approached standing along side their wives, the editor breeched out, "So what do you guys think about being bass pimps?" A moment of silence entered the group, then more silence. Nick quickly extended his hand with a polished smile ignoring the potential embarrassment  "...here's some pictures I thought you could use..." As he moved to the side of a display boat, he began to open a revealing tale of two brother's history and their finest moments. Flipping through the pages of photo after photo, George commented with each turn of the page. "Ah man, that one was from Girard Lake... look at that one, I remember that... now that's a big smallie...there's our first boat." Each page was a moment in their lives, more like a historical family album, as opposed to a braggn' board of tournament wins.       

An amazing thing happened during their early teen years on one of their many fishing trips with dad at the shores of Mosquito reservoir. A tightlined nightcrawler sat wiggling away through the sandy deposits eventually picked up by a solid 17" bass. As the line began to reverberate her intentions, brother George ran to Nick's rod and slung what was to be their first hookset into a green striped monster. After a few pictures, a brotherly instinct began its' transgression into one of the most solid teams in NE Ohio. "If George caught a catfish, I had to catch two… and one that was bigger than his." Nick replied with teeth showing in his grin. George humorously agreed, "It's true still to this day, always more and bigger!"

By their late teens, the brothers were tinkering with lures, reading B.A.S.S., and had just inherited a 14 footer from a neighbor. With a little ingenuity, 100 lbs. of boat carpet and a jig saw, they created their first rig complete with a 9.9 burner. "It was pretty low in the water…I kept saying that it would never work!" George remembered. "We eventually cut off the front and laid out a deck." Nick jumped in with fond memories of their wooden livewell. " I took plastic pool liner and formed it around the box, that thing was great!" After a few annual replacements of the pool liner and a "new" 50 HP outboard they were set. A couple of top finishes in some of their first tournaments, George later took out a "fatherly" loan. The Procraft would begin a journey that has since led to the 12 new boats between them.

By the late 1990's both anglers had made their bid to the National levels of competitive angling. Distraught by the old format of B.A.S.S. in which the eight hour day was split between two pro's in the boat, not to mention a growing family for both young anglers, the brothers were ready to further their mark upon the local scene. Payouts for local events had expanded during this time and a diverse array of angling opportunities were now available. From a homemade bassn' rig, to the national spotlight, the duo once again re-solidified their powers together, back home. Just some of their highlights of accomplishments since this time include: back to back Championship wins in the Midwest Pro Bass Series 02'& 03', Anglers of the Year in both 03' & 04' for the X-Series, as well as X-series Championship winners in 2004.

This short resume of the Prvonozac team leaves many anglers in a tailspin of just exactly "how"? How on earth can can two guys consistently pull off so many wins when it's all on the line!? Nick responded with his insights,

"throughout anything I have ever done, I focus on what matters... come championship time we are both just totally different fishermen. Focusing is the key and at championship times, it all just comes together."

George followed up,"It's the final hour decisions...needing to cull that last fish...using your instincts to find one more. I can't tell you how many times this past year the last five minutes played a role in our fishing." George elaborated,"It's all gotta go your way, from the organization of tackle to your equipment working, the little things add up... those key fish make a difference"

Their focus and momentum is just not derived from within, but also a higher power. Nick pointed behind George towards both families at their side, "...they are all praying for us when we are out there. We both have a strong belief in Christ. If the Lord blesses you than he does." They both insisted the recent X-series win on Chatauqua was a complete miracle, presented almost as a blessing from their powers that be. Nick commented,"It was the furthest thing from my mind. Our practice stunk. I looked at George when we were coming in on the second day and told him, 'Well, someone just won that boat.'" As they got closer to the scales, their excitement later turned to another prayer answered.

They both stressed the importance of one another in their team. "You don't want to throw off the momentum of the team..." Nick asserted, "...there's an equilibrium that has to work." George nodded his head with assurance stating,

"I can almost predict what he's going to do. If he says let's go- we're gone. He made a lot of our key decisions this year that made the difference."

George recalled one moment from a specific day, " The water was barely 50 degrees and he (Nick) stopped what he doing to move to this tapered point. He whips out a topwater and hits a 4 plus smallie off of nothing... he just felt it." Nick later revered his older brother commenting, " The most fun I have is fishing against him."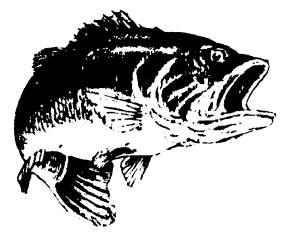 Rob Hladio with Nick ~ Anglers Choice        boat win Dale Hollow 2004