FBFP2002 FINAL EVENT RESULTS AND STANDINGS

THE LONG AWAITED DAYS OF SPRING FINALLY CAME A WEEK BEFORE JUNE 15TH. BUT 24 HOURS BEFORE, MOTHER NATURE HELD WITH FBFP TRADITION MAKING 35 TEAMS PULL OUT THE RAIN GEAR AND THROW ON THE LONG JOHNS. SOUTHEASTERNLY WINDS, A CLOUDY SOFT MIST AND TEMPS NOT HITTING 70 LEFT A FRIGID GROUP OF ANGLERS SEARCHING FOR FINAL CHAMPIONSHIP POINTS. AFTER IT WAS ALL SAID AND DONE, 9 TEAMS LEFT SWEARING AS THE SUN CAME OUT EXACTLY AFTER THE LAST BAG OF A TOTAL OF 70 FISH WERE WEIGHED. LEAVING THE 4 EVENT QUALIFYING AVERAGE FISH TO WEIGH 2.54LBS (233 TOTAL FISH FOR NEARLY 600LBS). ANOTHER BIG BAG ON THIS DAY FURTHER PROVED OUR MOTHER IS AS HEALTHY AS EVER. MAKING FOR AN AVERAGE WINNING FISH FOR EACH QUALIFYING EVENT (THE TOP 20 FISH) TO WEIGH OVER AN IMPRESSIVE 3.5 LBS. APIECE!  THE STORY IS FINALLY TOLD LIKE THIS ....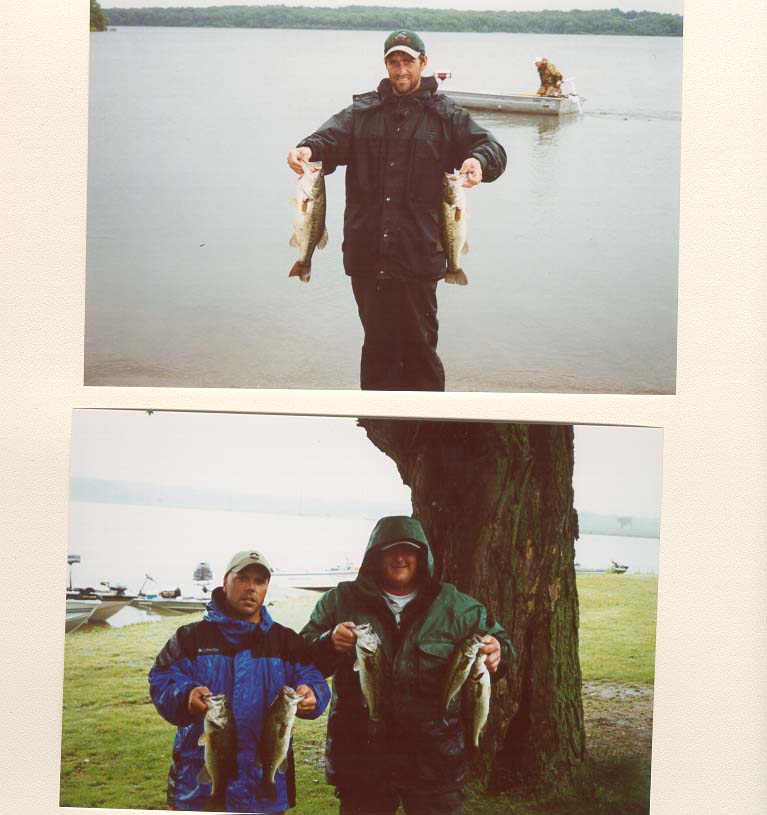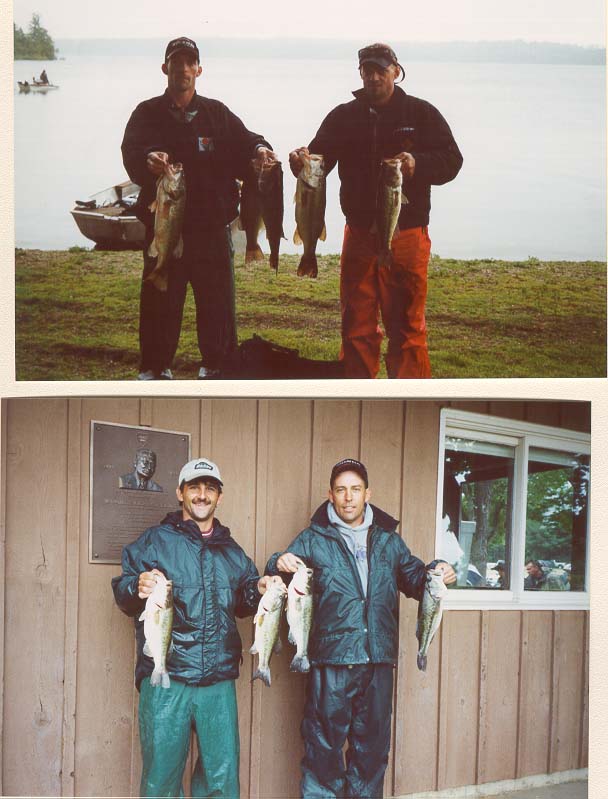 TOP LEFT IS THE TEAM OF BO AND MIKE GEIL WITH ALL FIVE FISH FOR A TOTAL WEIGHT OF 18.62 LBS (2ND BIG BASS AT 4.35), THE SECOND HEAVIEST CREEL OF THE YEAR. GOOD TIMING TOO AS THE FIRST SPOT FOR THEM NOT ONLY PAID $703 BUT ALSO PUT THEM IN A FIRST PLACE TIE FOR POINTS LEADERS OF THE YEAR. THE CHAMPIONSHIP FINISH WILL DETERMINE THE 2002 POINTS CHAMPIONS NOW !!! NICE COMEBACK FOR BO WITH HIS NEW TEAM PARTNER. THE TEAM CAUGHT OVER 20 FISH IN THE EARLY MORNING HOURS OFF A MID LAKE HUMP IN THE SOUTH END. DEEP CRANKN' ACTIVE, FEEDING,SCHOOLING FISH MADE MIKE'S THUMBS RAW AS BO CONTINUED TO PUT THEM ON HIS LAP - IN FRONT OF THE TEAM OF BURNS AND GRONOWSKI NONE THE LESS !!!

THE ELUSIVE SECOND PLACE TEAM OF PERONEK AND CHUEY AGAIN PROVED THEIR STUFF. THE DIRECTOR AGAIN PROVED THAT DIGITAL CAMERAS DON'T LIKE WATER AND RELIED ON PICS TAKEN FROM THE CROWD. THE BOTTOM LINE, PERONEK AND CHUEY CONTINUE TO PLACE IN THE TOP SEEDS AND GET NO PHOTO CREDIT. ALL THAT HARD WORK OF PITCHN' WHITE 1/2OZ SPINNERBAITS TO BUSHES, CATCHN' ANOTHER IMPRESSIVE 5 FISH 15.36LB BAG ,CASHING A $315 CHECK AND THEN NO PICS !!!  LOOK FOR FOR THIS TEAM IN 2003 AS THE FIRST "FEATURED ANGLERS SPOTLIGHT" ARTICLE WILL HOPEFULLY MAKEUP FOR MY MISTAKES. GREAT FINISH GUYS, LOOKING FORWARD TO HAVING YOU BACK IN 2003.

TOP RIGHT IS THE SOLO ANGLER CHRIS MINICK WITH TWO OF HIS 5 FISH,12.36LB LIMIT - ONE A 3.7LB 3RD BIG BASS. CHRIS STRUGGLED MOST OF THE DAY MANAGING A COUPLE OF FISH AROUND NOON ON A TOPWATER POPPER, HIS LAST 3 IN THE FINAL HOURS OF THE EVENT - AND NO THEY DIDN'T COME FROM A BURLAP BAG, A ROPE TIED TO A TREE OR HIS EX-PARTNERS LIVEWELL. THESE FISH CAME FROM PERSISTENCE AND PERSEVERANCE OF A COMMITED BASS ANGLER. GOOD SHOW CHRIS. YOU MADE THE CHAMPIONSHIP DESPITE A BLANK AND ANOTHER TOUGH EVENT EARLIER THIS SPRING. THERE IS NO ENEMY, BUT YOURSELF. CLICK HERE FOR MORE ------> 
THE ENEMY
FOURTH PLACE PICTURED BOTTOM LEFT, YET ANOTHER GEIL AND HIS PARTNER LUTHER WITH 12.09LBS. THIS TEAM WAS PRETTY QUIET AT THE WEIGH-IN BUT SEEING AS HOW I FISHED BEHIND THEM FLIPPN' JIGS UP IN THE RIVER FOR MORE THAN HALF THE DAY I KNOW THEY WON'T MIND ME REVEALING THEIR SECRETS! I SAW CHARTRUSE BUZZBAITS AND SPINNERBAITS DRAGGED OVER LAYDOWNS AND WOULD HEAR THE OCCASIONAL "NET" SCREAM ABOUT EVERY HOUR! THESE GUYS FULLY REPRESENT WHAT FBFP ATTEMPTS TO PROMOTE - FUN FISHN' , GOOD RIBBIN' AND BIG BASS. PLEASURE TO HAVE YOU GUYS AROUND - SEE YOU AT "THE SPOT"!

FIFTH PLACE WITH A LIMIT AND 11.76LBS WAS RORY FRANKS... HEY WAIT THAT'S ME (NOT PICTURED AS WELL)! IT WAS ONE OF THOSE DAYS WHERE DESPITE NOT BEING IN THE TOP SPOT, THE FISH I CAUGHT WERE AS REWARDING AS WINNING A CHAMPIONSHIP. CLEAN FISHN', A VARIETY OF TECHNIQUES, TIME SPENT SHALLOW AND FINISHING DEEP IT ALL CAME TOGETHER WITH THAT INTUITIVE FEELING THAT THE NEXT CAST WOULD BE A FISH. THEY JUST WEREN'T BIG ENOUGH! A THIRD PLACE OVERALL POINTS SOLIDIFIED AND A NICE CLOSE TO YET ANOTHER SUCCESSFUL "DO" EVENT. NOT TO MENTION I BEAT JOE ENGLER BY .03 OF A POUND AND 2 POINTS OVERALL !!! GOTCHA !!!

SIXTH PLACE WITH FIRST BIG BASS (4.6LBS) AS WELL, MY BUDDY JOE ENGLER (NOT PICTURED) AT 11.73LBS. JOE AND HIS 1/4OZ WHITE SPINNERBAIT, NO NET AND RANGER HAT WRESTLED HIS LIMIT INTO THE BOAT AT VARIOUS TIMES DURING THE DAY. WITH EACH FISH THINKING " I GOT THAT FRANKS GUY NOW". AFTER THE EVENT, JOE AND I PUT A DOLLAR UP AGAINST 5 HRS OF SOLO FISHN' AND MET UP LATER IN THE DAY. MAKE SURE YOU ASK HIM THE FINAL RESULTS OF THE DAY! THAT DOLLAR IS FRAMED IN MY BASS ROOM NEXT TO OUR PICTURE TAKEN A WEEK LATER WITH A  FIRST PLACE TEAM FINISH IN SALMOIDES. I'M SETTING YOU UP FOR SUCCESS JOE - DON'T GO KNOCK MY FISH OFF!

SO THERE IT IS !!! WHO ARE THOSE OTHER GUYS IN THE BOTTOM RIGHT??? THATS PART OF THE FBFP TEAM CORBETT AND JOHNSON HAMMING IT UP WITH THEIR 7TH PLACE FINISH - OH SURE WE GOT A PIC OF THEM - SECOND PLACE MUST REALLY BE HOT NOW! MAKE SURE TO CHECK OUT THE LINK BELOW WITH A COMPLETE LISTING OF STATS AND FINAL POINT STANDINGS. MY APOLOGIES AGAIN FOR THE LONG DELAY IN FINSIHING THE SITE. DECEMBER ISN'T THAT BAD THOUGH EH!? LOOKING FORWARD TO 2003- MAKE SURE TO CHECK OUT RECENT UPDATES AND THE NEW HOME PAGE AT ---
WWW.DOBASS.COM.